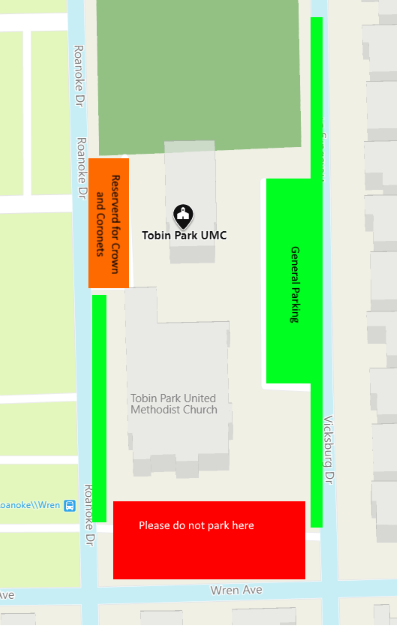 The Barony of the Citadel of the Southern Pass invites all to come together to celebrate His Excellency Bernardo dei Medici's final court and the Investiture of Maese Carlos Nieto de Andrade and Mistress Joella of Blue Lion's Keep as the 14th Barón and Baroness of the Citadel of the Southern Pass.
Date: March 4th 2023
Gates open at 9 am and the event ends at 10 pm
Location: Tobin Nations United Methodist Church 9410 Roanoke Dr, El Paso, TX 79924 https://goo.gl/maps/c6kaLfPiiNk7m4Du9
From I-10: Head to US54, take exit 24 toward Fred Wilson Rd/Railroad Dr. Head North on Railroad Dr for 3.7 miles, turn left on to Hondo Pass Dr. Turn right onto Roanoke Dr, destination will be on the right .6 miles.
From US-54 (via New Mexico): Head south on US-54, exit McCombs and head south. Turn right on Sanders Ave, turn left on Roanoke Dr, destination will be on the left .1 miles
Site Fee: $20 Adults, $15 Members, Youth 17 to 15 are $15, children 14 and under are free. Feast is included in the fee. Pay Pay at the gate, Cash, or Checks made out to SCA Inc Citadel of the Southern Pass.
Merchant space will be available, $20 fee.
Autocrat Morgana of Land's End, stewards@southernpass.org
RSVP (including food preferences) located at https://forms.gle/HzfrYY5zMdWZzzwr9
There will be a table set up where you can give/trade old books, garb, feast gear, or any other items that clutter up your house you no longer need.
We will have a photographer on site (donation based) to take photographs of the populace in garb.
---
The church asks that we not park on the Wren side of the building.
There will be a donation lunch.
Feast details

Appetizer

Roasted Parsnip and Honey Soup- Roasted parsnip drizzled with honey served with bread. Vegetarian, Welsh.
Albondigas en tomate- Beef and pork meatballs served in a tomato sauce. Spanish.

Entrée

Glamorgan Sausages- Shallow fried fritter with Cheddar and Havarti cheese. Vegetarian, Welsh.
Tortilla Española- Egg omelet with potatoes and onions served with aioli. Spanish.

Dessert

Pwdin Eva- Bed of baked apples topped with a vanilla sponge served with a vanilla custard. Welsh.
Tarta de Santiago- Almond based cake with a hint of lemon. Gluten Free, Spanish.

There will be a competition for Baronial Bard (rules below)
Site is dry.
Please no stakes in ground if you bring a shade.
We will be making a pin book with wooden covers as a A&S project. We only have supplies for 24 so please sign up at registration if you are interested.
Mistress Catriona will be teaching Court Dancing in the afternoon.
Members of the Citadel populace have graciously sponsored two martial tournaments.

Lord Seamus O'Glacain has sponsored the armored tournament with a Swiss five format (five rounds spear/polearm, sword & shield, Florentine, great sword, and then axe). Prize is the materials to make a new weapon or two.
Lord Frederick Fortescue has sponsored the rapier tournament (format to be determined). Prize is an assortment of feast gear.
We hope all can attend and those watching the combatants bring a small gift or favor to give to a combatant that inspires you or fights with honor.
---
Having seen the success at Coronation of the Craft Person's Green, we would like to invite all artisans to set up space and teach/demonstrate their work or projects during the day at Citadel Investiture XIV (weather permitting outside).
What is a Craft Persons Green? Crafts Person Greens are interactive Arts & Sciences displays where the artisans are encouraged to teach at their display. All artisans at any level are encouraged to participate!
Please reach out to Her Grace Morgana stewards@southernpass.org if you have any questions.
---
Hail Citadel! The rules for the Baronial Bard competition to be held at Investiture will be as follows:
Original composition on the glory of the Citadel. May be spoken, sung, or sung and accompanied musically. If you could please keep your composition under 5 minutes, please.
---
Event Schedule
(Subject to change at Their Majesties' and Excellency's Whims)
---