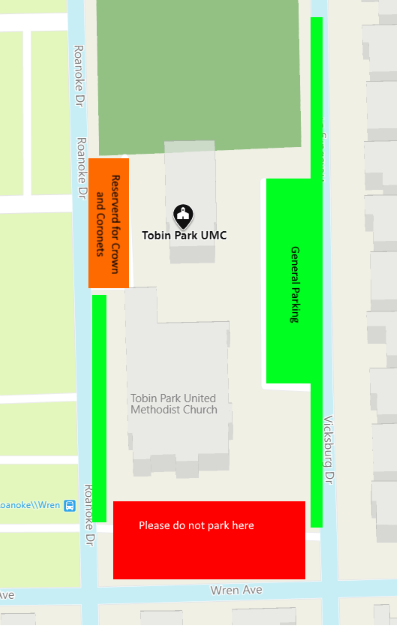 The Barony of the Citadel of the Southern Pass invites all to come together to share in merriment with old and new friends. With the winter approaching a feast celebrating friends and the memory of Blessed St Edrik (Patron Saint of Squires and Children born with Extremely Large Noses) has been called by His Excellency Benardo.
Date: December 10th, Gates open at 10 am and the event ends at 10 pm
Location: Tobin Nations United Methodist Church 9410 Roanoke Dr, El Paso, TX 79924 https://goo.gl/maps/c6kaLfPiiNk7m4Du9
From I-10: Head to US54, take exit 24 toward Fred Wilson Rd/Railroad Dr. Head North on Railroad Dr for 3.7 miles, turn left on to Hondo Pass Dr. Turn right onto Roanoke Dr, destination will be on the right .6 miles.
From US-54 (via New Mexico): Head south on US-54, exit McCombs and head south. Turn right on Sanders Ave, turn left on Roanoke Dr, destination will be on the left .1 miles
$20 Adults, $15 Members, Children under the age of 17 are free. Cash or Checks made out to SCA Inc Citadel of the Southern Pass will be the only options for payment. Our apologies.
Maese Carlos Neito de Andrade and Lord Johan von Horne autocrats stewards@chatelaine
RSVP for feast and the event https://forms.gle/2t2VD3FcKwjfv3yi9
We will have a table set up where you can give/trade old books, garb, feast gear, or any other items that clutter up your house you no longer need.
---
As announced in Baronial Court and by HRH Sabiha, His Excellency Bernardo has requested to retire from his position as the Baron of Citadel of the Southern Pass. Thusly there will be polling at the Feast of St Edrik, for which there will be no cost to attend if all you wish to do is poll. Otherwise, you will be charged the event fee.
---
The church asks that we not park on the Wren side of the building
There will be a donation lunch
Feast will be a stew or soup
There will be a populace competition using regionally picked fruit to make sides or desserts
A&S classes (Build your own belt pouch, and more to be announced)
Baronial Champion tournaments at the request of His Excellency Armored combat, Fencing, and possibly Bard tournaments
Site is dry
Please no stakes in ground if you bring a shade
War Practice on Sunday, Memorial Park
Event Schedule
(Subject to change at Their Highnesses' and His Excellency's Whim)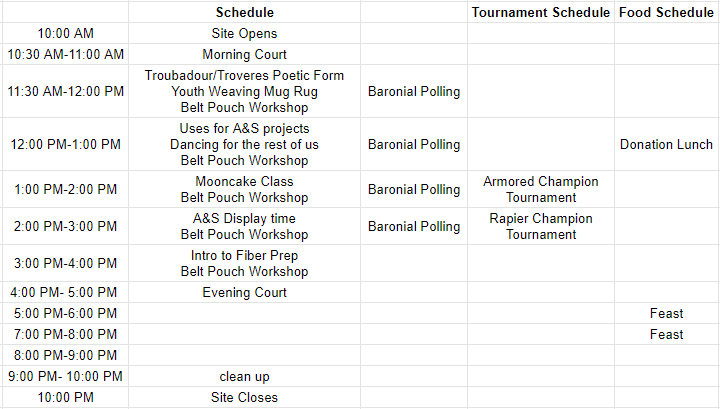 ---
Greetings,
The Feast of St. Edrik fast approaches and I would like to invite all members of our wonderful populace to create an A&S display for the event. Displays are an informal way to share the interesting Arts and Sciences projects you've been working on, including projects that are not yet done. Remember that the Arts and Sciences can include all types of things, from the costumes we wear, and the armor used in combat, to culinary and performing arts. Some of us are returning to play after some time away and others are new to our group, but this is something anyone of any level can do.
Please contact me with your questions and ideas so that we can work together to make it happen.
I would also like to ask if anyone is interested in teaching a class during the event?
Yours in Service,
Àsdis Alfriðardottir artsandsciences@southernpass.org
(Amanda Park) Minister of Arts and Sciences